Jumat, 23/11/2012 14:05 WIB
Rekaman Paul McCartney dan Bob Dylan Akan Masuk ke Grammy Hall Of Fame
Begitu pula dengan rekaman dari AC/DC, Elton John hingga Whitney Houston.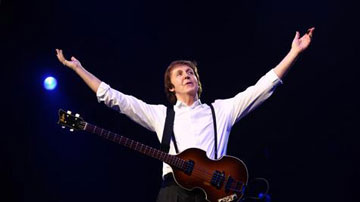 Los Angeles
- Rekaman milik Paul McCartney dan Bob Dylan akan menjadi salah satu dari 27 daftar baru yang masuk ke dalam Grammy Hall Of Fame, berbarengan dengan AC/DC, Frank Sinatra, Elton John, Billy Joel dan Whitney Houston.
Band On The Run
milik Paul McCartney And Wings,
single
Bob Dylan yang berjudul "The Times They Are A-Changin'," AC/DC dengan
Back In Blac
k, Elton John dengan
Elton
John, Billy Joel dengan
Piano Man
dan
Whitney Houston
yang dirilis Whitney Houston akan menjadi bagian Hall Of Fame yang dipamerkan di Museum Grammy.
"Bersama perayaan 40 tahun Grammy Hall Of Fame, hal ini sangat penting untuk dicatat, tradisi akan berlanjut untuk melantik berbagai rekaman yang menginspirasi dan memberi pengaruh baik kepada penggemar serta pembuat musik untuk berbagai generasi," ujar Neil Portnow, Presiden dan CEO Recording Academy, pada rilis pers seperti dilansir
Rolling Stone.
"Kami bangga menambahkan semuanya ke dalam katalog kami rekaman yang menjadi bagian dari sejarah musik, sosial dan budaya," tambah Portnow.
Grammy Awards ke-55 rencananya akan diselenggarakan pada 10 Februari 2013 mendatang.
Berikut adalah daftar rekaman yang akan masuk ke dalam Grammy Hall of Fame:
Buck Owens – "Act Naturally"
Louis Jordan And His Tympany Five – "Ain't Nobody Here But Us Chickens"
Joe Falcon – "Allons Lafayette"
AC/DC – "Back In Black"
Paul McCartney & Wings – Band On The Run
W.H. Stepp – "Bonaparte's Retreat"
Lennie Tristano Sextet – Crosscurrents
Carols Gardel – "El Da Que Me Quieras"
Elton John, Elton John
Lester Flatt, Earl Scruggs And The Foggy Mountain Boys –Foggy Mountain Banjo
Little Richard – Here's Little Richard
Ray Charles – "Hit The Road Jack"
Willie Mae "Big Mama" Thornton – "Hound Dog"
James Brown –"I Got You (I Feel Good)"
John Coltrane And Johnny Hartman – John Coltrane And Johnny Hartman
Original Broadway Cast – Lost In The Stars
Charles Mingus – Mingus Ah Um
Son House – "My Black Mama [Parts 1 and 2]"
Francis Craig And His Orchestra –"Near You"
The Drifters – "On Broadway"
Billy Joel – "Piano Man"
Memphis Jug Band – "Stealin' Stealin'"
Richard Pryor – That Nigger's Crazy
Frank Sinatra –Theme From New York, New York"
Bob Dylan – "The Times They Are A-Changin'"
Ernest V. "Pop" Stoneman –"The Titanic"
Whitney Houston – Whitney Houston
(RS/RS)
Hasil Rating Pembaca: