Jumat, 02 Agustus 2013 12:25 WIB
Lambat, bertenaga, dalam, dan berat. Empat hal tersebut yang menggambarkan musik yang diusung oleh Octopuz, .....
Kamis, 11 Juli 2013 11:59 WIB
Rabu, 13 Nopember 2013 11:48 WIB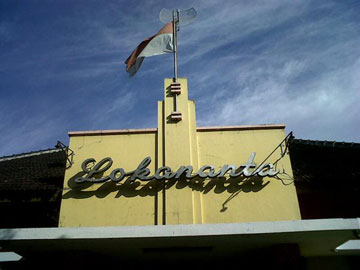 "Memangnya ada musik Indonesia? Memangnya ada kebudayaan Indonesia?" ujar etnomusikolog Rizaldi .....
Selasa, 01 Oktober 2013 13:16 WIB
SINJITOS 10th ANNIVERSARY
Rolling Stone Top 10
LALA
Between Us - Sinjitos Records

Andien
#Andien - Catz Records

Adrian Adioetomo
Karat & Arang -

My Seeds Records/demajors

Ayushita
Morning Sugar -

Ivy League

Music
Endah N Rhesa
Escape - Reiproject/demajors

White Shoes And The Couples Company
Menyanyikan Lagu2 Daerah -

demajors

Morfem
Hey, Makan Tuh Gitar! - MRFM

Records/demajors

Monkey to Millionaire
Inertia - demajors

The S.I.G.I.T.
Detourn - FFWD Records

Maliq & D'essentials
Sriwedari - Organic Records
From The Vault
RS 14, 20 July 1968

Hugh Masekela
"Grazing in the Grass" - UNI
Gary Puckett and the Union Gap
"Lady Willpower" - Columbia

The Rolling Stones
"Jumpin' Jack Flash" - London
Herb Alpert
"This Guy's in Love With You" - A&M
Cliff Nobles and Co.
"The Horse" - Phil-L.A. of Soul
The 5th Dimension
"Stoned Soul Picnic" - Soul City

Donovan
"Hurdy Gurdy Man" - Epic

Mason Williams
"Classical Gas" - Warner Bros.
The Doors
"Hello, I Love You" - Elektra
The Cowsills
"Indian Lake" - MGM
Hard Rock FM Top 20
Bruno Mars


"Treasure"



Jennifer Lopez feat. Pitbull


"Live It Up"



Sammy Adams feat. Mike Posner


"LA Story"



The Script
"Millionaires"

Alicia Keys feat. Maxwell
"Fire We Make"
Olly Murs
"Dear Darlin'"
Michael Franti & Spearhead
"I'm Alive (Life Sounds Like)"
Jamie Cullum
"Everything You Didn't Do"

Pitbull feat. Danny Mercer
"Outta Nowhere"

Rasmus Faber feat Linus Norda
"We Laugh We Dance We Cry"
Ke$ha feat. Will.I.Am
"Crazy Kids"
Sara Bareilles
"Brave"
Jessie J feat. Big Sean
"Wild"
India Arie
"Cocoa Butter"
IV-Play
"The-Dream"
Tegan and Sara
"Closer"
Paramore
"Still Into You"

Jason Derulo
"The Other Side"
Daft Punk feat. Pharell Williams


"Get Lucky"



Lumidee feat. Fatman Scoop "Dance!"
I-Radio Tangga Lagu Indonesia
Sma*sh


"Selalu Tentang Kamu"



Ungu
"Bila Tiba"
Geisha
"Lumpuhkan Ingatanku"
Kotak
"Inspirasi Sahabat"
The Groove
"Kusambut Hadirmu"
Nidji
"Rahasia Hati"
Cakra Khan
"Setelah Kau Tiada"
Alexa feat. Lala
"Bersamamu"
Hello
"Move On"
Angel Pieters
"Misteri Cinta"

JKT48


"River"
Project Pop
"Gara Gara Kahitna"
Aditya
"CNTK"
Volts
"Indah"
Fatin
"Aku Memilih Setia"
Endah N Rhesa
"Cinta Dalam Kardus"
Bunga Citra Lestari
"Jangan Gila"
Hijau Daun
"Titip Hatiku"
Kiki The Potters
"Kamu Yang Salah"
Tompi feat. Ras Muhamad
"Tentang Kamu"